Ashley's Roses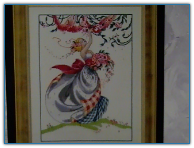 Click to enlarge image(s)
During the golden months of summer, Ashley often climbs the winding path to her hilltop arbor, to gather bouquets of rambling roses, to feel the cool breeze brush her bare skin, to savor the scent of distant wildflowers floating on the breeze. The simple gingham checks, wide sash and clean lines of her gown make her bower of old-fashioned blossoms seem all the more exuberant, making this design all the better for lighting up any sober spot in you home.
Suggested stitching on 32 count Belfast Cream Linen. Design area is 13 x 17". Stitch count is 202 x 266.
This chart has been discontinued. I have 1 chart left.

Rose Celebration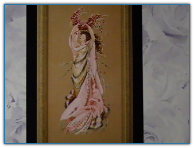 Click to enlarge image(s)
Imagine a jubilant parade of old, led by an auburn-haired beauty holding an arch of roses high aloft. A symbol of celebrations everywhere, her shell pink and dusty cream gown is entwined with delicate green garlands and pink and purple rosebuds. A crown of green leaves and deep purple berries atop her unbound hair proclaims her the undisputed queen of a very special day.
Suggested stitching on 32 count Amber Linen. Design area is 9-1/2 x 24". Stitch count is 150 x 383.

Scent of Old Roses, The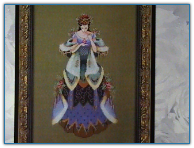 Click to enlarge image(s)
There is a princess, we are told, of indescribable wealth, who is fascinated by the mixing of garden scents. "A touch of lavender for sleep," she muses here, in an ornate gown and stole trimmed with "Wisper". "And rosemary, that's for remembrance." Rumor has it that she has captured her favorite scent, that of old English roses, in a rose-amethyst vial to carry with her wherever she goes. While you stitch, consider the effect of fragrances in your life, and resolve to surround yourself with those that bring you happiness, too.
Suggested stitching on 32 count Laurel or Belfast Olive Green Linen. Deisgn area is 7-1/2 x 13-1'4". Stitch count is 119 x 212.
.