Circle of Friends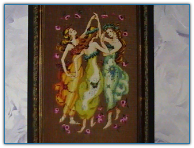 Click to enlarge image(s)
This is a tapestry tale of the love and support of close friends. Three golden-haired goddesses dance intertwined amidst falling fuschia roses. Each has her own beaded gown of peach, lemon and mint green. Designed to honor our dearest friends who are there to inspire and enlighten us when we need it most.
Suggested stitching on 32 count Coffee Bean Linen. Design area 9-1/4 x 15". Stitch count is 146 x 238.

Savannah's Curtsy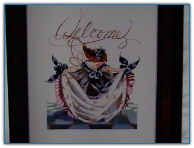 Click to enlarge image(s)
This winsome southern belle learned the genteel art of hospitality in finishing school, and she'd be delighted to extend a warm welcome to guests in any finely decorated foyer. She makes a lovely gift for new neighbors, new homeowners or newlyweds--or just hang her where she can make you smile each time you walk in the door.
Suggested stitching on 32 count White Joelan or Belfst White Linen. Design ares is 12 x 15. Stitch count is 187 x 235.