Fairy Dreams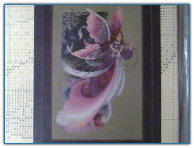 Click to enlarge image(s)
From the maker of angels, come her vision of fairies ... Fairy Dreams is Marilyn's whimsical interpretation of a childlike fairy drifting through the forest of sleep.. She carries strands of beads that become the seeds for magical dreams. The generous use of silver braid makes her gown sparkle with stars. Marilyn has designed a detailed 1 strand over 1 thread face for Fairy Dreams. A 2 strands over 2 threads face is available and can be substituted.
Suggested stitching on 28 count Dusty Green Linen. Design area is 12-1/4 x 18-1/4". Stitch count is 171 x 255.

Fairy Grandmother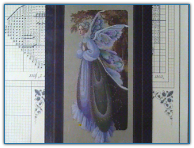 Click to enlarge image(s)
Fairy Grandmother is my image of a woodland fairy emerging from the forest. Her brocaded gown and mystically patterned wings are done in lavender, robin-egg blue and periwinkle ... with a touch of tiny pearls surrounding her neckline and scatters of elfin gold she floats before the amber trees. Her hair is done in lovely shades of snowy gray but can be easily changed to darker tones for the younger fairy. She was designed for my grandchildren who live far away ... since my spirit watches over them and magic kisses must take the place of real ones.
Suggested stitching on 32 count Clay linen. Design area is 8-3/4 x 18-3/4". Stitch count is 140 x 297.