Guardian Angel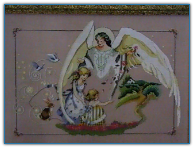 Click to enlarge image(s)
Reminiscent of a favorite painting you remember as a child, Nora's design captures all the love and concern of and Angel watching over two small children. Suggested stitching on 32 count English Rose or Belfast Cameo Rose Linen. Design area is 19 x 13. Stitch count is 304 x 206.

Millennium Angel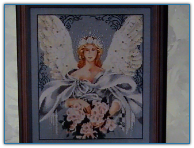 Click to enlarge image(s)
Poised before an arbor of greenery and robed in graceful swaths of coolest pewter satin, Mirabilia's Millennium Angel is the beautiful way to herald in the coming 21st Century. Tiny seed pearls adorn her halo, her outstretched wings glisten with touches of gold, and she bears a bouquet of full-blown pink roses, symbols of hope and goodwill. Our wish is that, in creating her, you will share in her spirit of tranquility and that, once finished, her peaceful gaze will bless your home from within as the modern world without moves into an increasingly fast-paced age.
Suggested stitching on 32 count Belfast Misty Blue Linen. Design area is 10-1/4 x 11-1/2". Stitch count is 162 x 182.